This section introduces details on JAS ratings for the quality of edible vegetable oil.

Edible vegetable oil which are applicable for JAS standards are widely used by consumers (users). As shown below in Table 2, standards are established for familiar oil (16 types including soybean oil), products made from a mixture of those familiar oils, and 18 types of flavored edible vegetable oil in which flavor is added to oil. Generally speaking, these standards are revised every five years. Please note that JAS standards for edible vegetable oil were last amended in fiscal 2014.

Edible vegetable oil is made from the seeds of plants that are created through the blessings of nature. Oil is extracted from the seeds and refined for consumption to create pure products. Therefore, if oil has been extracted from the same type of ingredients, the composition of the oil and the quality will be within a certain range, although there may be slight differences depending on the type of oil, the production region, and weather conditions during production. The section for confirming oil type in Table 2 defines values for the characteristics of each type of oil within this specified range.
We will now give a brief explanation for the scientific meaning of these ratings.


By investigating the characteristics for each type of oil listed below in Table 4, it is possible to confirm that the product is edible vegetable oil as listed.
Table 4: Characteristic values of edible vegetable oil for JAS standards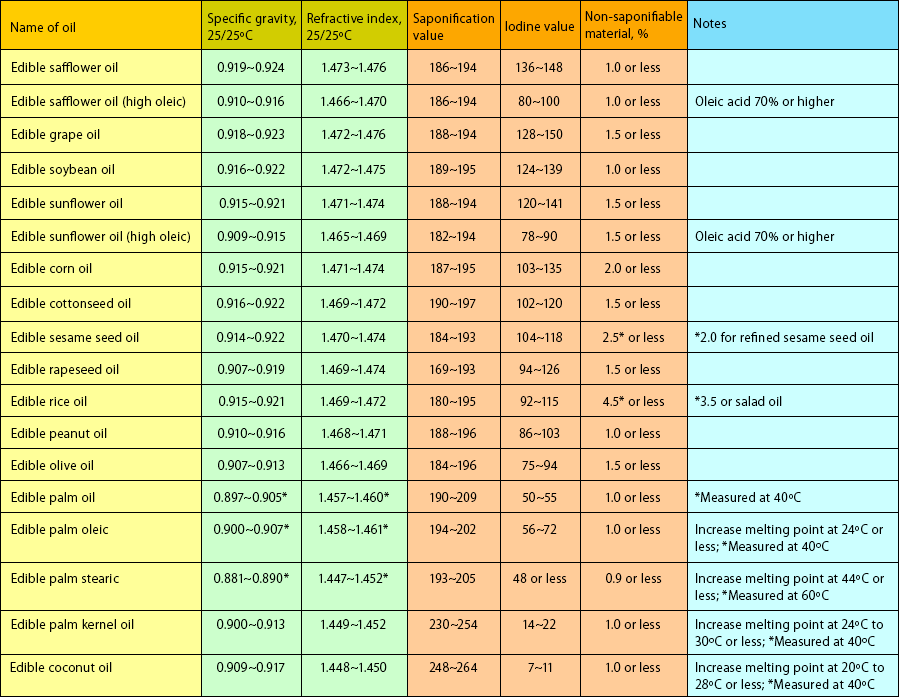 1) The specific gravity and refractive index indicate the length of fatty acids which compose the vegetable oil and the degree of unsaturation.
2) The saponification value indicates the average molecular weight of the vegetable oil.
3) The iodine value indicates the degree of unsaturation for the oil.
4) The non-saponifiable materials indicate the amount of unique components contained in the oil.
5) The fatty acid composition indicates the type and amount (specific gravity) of fatty acids which compose the vegetable oil.
6) The increased melting point indicates the temperature at which solid vegetable oil changes to liquid.


Product quality can be confirmed through the following inspections which evaluate the degree of purity.
1) The general condition is evaluated by checking the clarity of the oil and conducting visual, olfactory, and taste inspection for the flavor.
2) The color is measured through a combination of yellow and red color. Numerical evaluation is conducted for the unique color of each vegetable oil.
3) The moisture contaminant evaluates the amount of moisture, vegetable oil cloudiness, etc.
4) The oxidation value evaluates the degree of purity by measuring the free fatty acids included in vegetable oil.
5) The peroxide value evaluates the degree of deterioration through oxidation of the vegetable oil.
6) The non-saponifiable material indicates the degree of purity and confirms the vegetable oil.
For edible vegetable oil manufactured in Japan, many corporations other than JOPA member companies have also obtained JAS plant certification. The supply of oil which does not meet JAS standards is almost inconceivable. However, for imported edible vegetable oil, JAS standards are not satisfied due to a lack of understanding for JAS standards. Even so, there are sometimes cases of mistaken labeling. Nevertheless, it is possible to confirm the inconsistencies of labeling by checking numerical values.

With the exception of natural vitamin E (α-tocopherol : contained in large amounts in vegetable oil, this constituent possess anti-oxidant qualities), household products which are designated as edible vegetable oil and which have obtained JAS ratings do not contain any food additives. Therefore, with the exception of natural vitamin E, food additives are not used in edible vegetable oil that has the JAS mark. However, this is not true for products to which JAS standards do not apply. These products may use anti-oxidant agents such as vitamin C. Moreover, imported oil may use anti-oxidant agents and anti-foaming agents that are recognized in the exporting country. Even in cases where labeling is not required by law in the exporting country, labeling must be used when the product is sold in Japan. Unfortunately, there are cases in which labeling is not used correctly. Consequently, the Japan Association for Inspection and Investigation of Foods Including Fats and Oils inspects imported oil as necessary, reports the inspection results to the Japanese government, and requires necessary processing.
Even in the case of edible vegetable oil which has acquired JAS standards, for oil shipped for industrial use, it is permitted to add a very small amount of anti-foaming agent (silicon resin) in order to prevent accidents when making a large amount of fried foods. Please note that products shipped for industrial use (large containers of 4 kilograms or more) are also sold for household use at large wholesale supermarkets.

As discussed, the JAS Act is a law that defines standards for quality and labeling. Accordingly, regulations on residual pesticides and poisonous materials for product safety are based on the Food Sanitation Act.
In the case of vegetable, the government inspects for residual pesticides, etc. for imported materials. Only items which meet the allowable standards are permitted to be imported. Therefore, this stage eliminates safety concerns regarding residual pesticides in materials. Furthermore, allowable standards for residual pesticides in imported vegetable oil have been defined, and only products clearing these standards can be imported.
In addition to these incoming checks, in regards to edible vegetable oil to which JAS ratings are applied, each manufacturer sets their own management standards. In addition to in-house inspection, periodic inspection for residual pesticides, etc. is outsourced to the Japan Association for Inspection and Investigation of Foods Including Fats and Oils, which is a third-party inspection organization. These are thorough measures for ensuring safety. Moreover, the Association has established a system for conducting inspection for residual pesticides as necessary.