In addition to fatty acids, vegetable oil also contains trace constituents which are beneficial for maintaining the health of the human body. Some of these constituents are contained in large amounts in almost all types of vegetable oil, while other constituents are only contained in certain types of oil.
a. Plant sterols
Contained in large amounts in almost all types of vegetable oil, particularly in rice oil, rapeseed oil, and corn oil. Plant sterols suppress the absorption of cholesterol in the small intestine and decrease blood cholesterol.
b. Tocopherol (vitamin E)
Tocopherol is widely known as vitamin E. About 30% of vitamin E consumed by Japanese people is obtained from vegetable oil. Tocopherol continues four types of isomers. In particular, a-tocopherol exerts high antioxidant properties in organisms and has benefits such as
anti-aging. r-tocopherol and δ-tocopherol have antioxidant properties in organisms. Tocopherol is the reason why antioxidant agents are not added to vegetable oil.
c. Tocotrienol
A homologue to tocopherol, tocotrienol is a unique substance in rice oil and palm oil. Similar to tocopherol, it possesses antioxidant properties.
d. Lignans
A small amount of lignans is contained in almost all vegetable oil. A high concentration of unique lignans is contained in lignans. Lignans possess antioxidant functions. Sesamin is one type of lignan that is used as a supplement for its ability to dissolve alcohol in the liver.
e. Oryzanol
A unique substance to rice oil, oryzanol has the same effects as vitamin E. Also, y-oryzanol has an antidepressant property and is used as a pharmaceutical.
f. Polyphenol
A small amount of polyphenol is contained in olive oil. Although polyphenol is expected to have antioxidant properties, olive oil does not contain an amount that offers clear effects. When consuming an excessive amount of olive oil in pursuit of this benefit, there is concern for problems such as excessive caloric intake.
g. Beta-carotene
Beta-carotene is an antioxidant constituent contained in unrefined vegetable oil. Beta-carotene is not contained in normal products because it is removed in the refining process. Some types of palm oil are refined so that beta-carotene remains in the product.
Table 8: Trace constituents contained in vegetable oil and related effects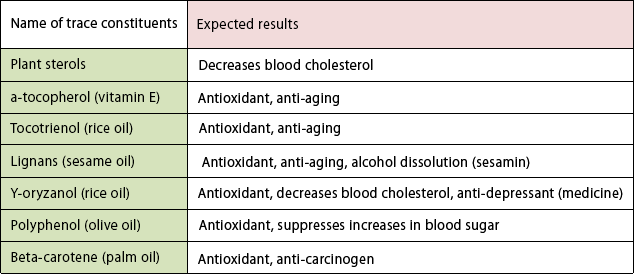 Vegetable oil itself is a source of vitamin E. It is also an essential food product for absorbing fat-soluble vitamins (vitamins A, E, D, and K). It is known that carotene (converted into vitamin A in the body metabolism), which is contained in large amounts in green and yellow vegetables such as carrots and green peppers, is absorbed into the human body when eating together with vegetable oil. Cooking with vegetable oil is a good idea in terms of both delicious flavor and nutrition.